Family, tradition, engagement and nature describe perfectly Mas de Libian. This domain belongs to the Thibon family since 1670…almost four centuries of working this land! A tremendous heritage that Hélène and her sisters (Catherine and Cécile) continue to cultivate since 1995.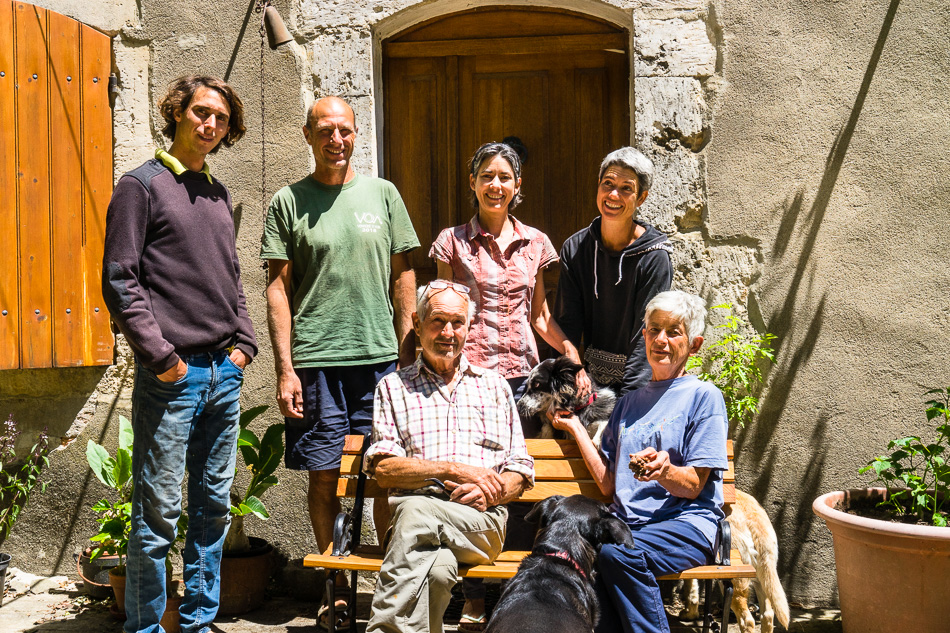 Pierre Masson, had saw the potential of her domaine few years ago. This wine consultant is a reference of biodynamic culture but what makes him the man you need to retain is that he has been working with one of the most remarkable domaine in the world : Domaine de la Romanée Conti. This means that he chooses carefully the domains he wants to work with, domains with a real identity in search of excellence and Domaine Mas de Libian is one of them ! Pierre Masson has chosen to work with Hélène whereas he didn't want to follow any another domains. He changed his mind when he saw the quality of Hélène work and said that Mas de Libian was the reference in biodynamic wines in the South Region. We can only agree with him and we would be happy to share with you these incredible wines !
Work Philosophy
Located in Saint Marcel d'Ardèche on the western side of the Rhône River, at the very end of the gorge of the Ardèche, these 25 acres have never seen any chemicals and always farmed organically. In 2005, they decided to push this limit by obtaining the Demeter certification, proof of their biodynamic practices. Hélène produces wines while respecting all the ecosystems: soils, vines, animals, nature, moon and sun cycle, the weather. Her goal is to maintain a maximum of biodiversity. She explains, "It is an attempt to understand and respect the laws of nature as much as possible in agricultural practices: it concerns both agronomic and biological aspects of agriculture". In this way, the soils have been subjected to neither pesticides nor weed killers since the beginning of this adventure and the vineyards are ploughed by horses, Nestor and Bambi. According to the owners, "Plowing the earth, with love and respect, in tune with the rhythm of a horse (quite a different rhythm from what we're used to today) always brings a calm and serenity to life". Today, her 56 acres of vineyard are completed by a vegetable garden, a flower garden, a few beehives, few animals, and 19 acres of "nourishing" land planted with olive trees, grains, and hay. It's an incredible choice her ancestors made and very avant-gardist for the era. Winegrowers have been adapted themselves to the Nature, and not the contrary. It's a way of life that Hélène proudly claims. "I have a responsibility as a wine-grower to give through the wines what the nature offered to us. Like actors; we translate the nature words into the wines without distortion".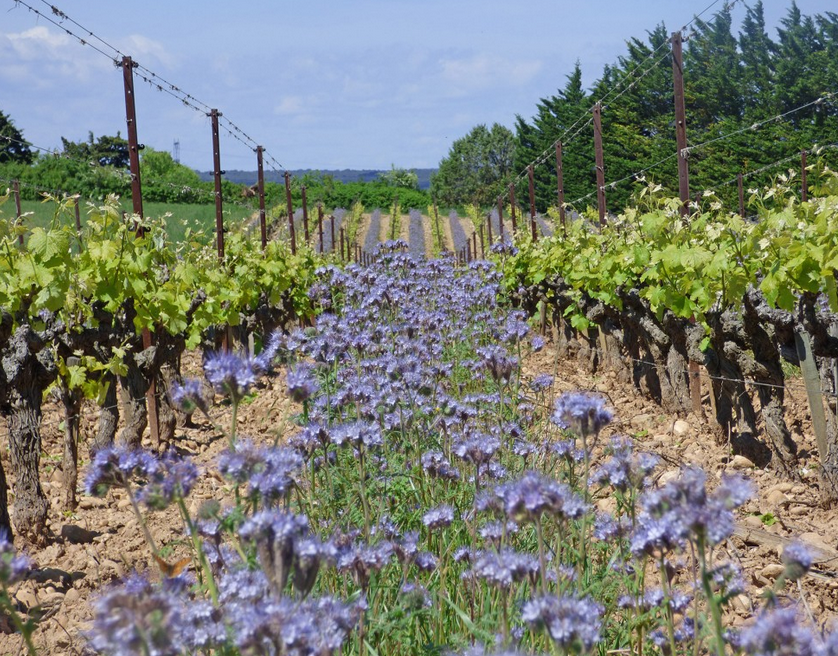 The terroir is bathed in sunlight, Mas de Libian proudly identifies itself as a southern French winery producing wines from blends of different grape varieties. Following Hélène's words, "We have this blend culture. I'm convinced that from the diversity, born the richness". Her red wine Khayyaâm is the perfect example! Made with 75% of Grenache, 15% of Mourvèdre and 10% of Syrah assembled together in tank, you can enjoy this cuvee to your dinner table during the cold winter days; it will take care of warming everyone back up! Made with 75% of Grenache, 15% of Mourvèdre and 10% of Syrah this wine will warm up everyone around a table during a cold winter.
Appellations
Mas de Libian counts 42 acres of Côtes du Rhône Appellation, the others 12.4 acres are cultivated as Vin de France. For the most part, the parcels surround the Domaine and the average age of the vines is about 30 years old.
Grapes Varieties and Terroir
The Grenache represents 55% of the vineyard, Syrah 20%, Mourvèdre 15% and the 10% left are small portions of Counoise, Vaccarese, Viognier and Roussanne. The soils represent the classic Southern Rhône terroir with rounded river rocks and red clay. The rounded river rocks, known as "galets-roulés" were polished by the water of the Rhône River and capture the warm of the day to deliver it to the vine and the soil at night, it will confers a certain opulence and richness with ripe fruits aromas. Regarding to the red clay, would give suppleness to the wines.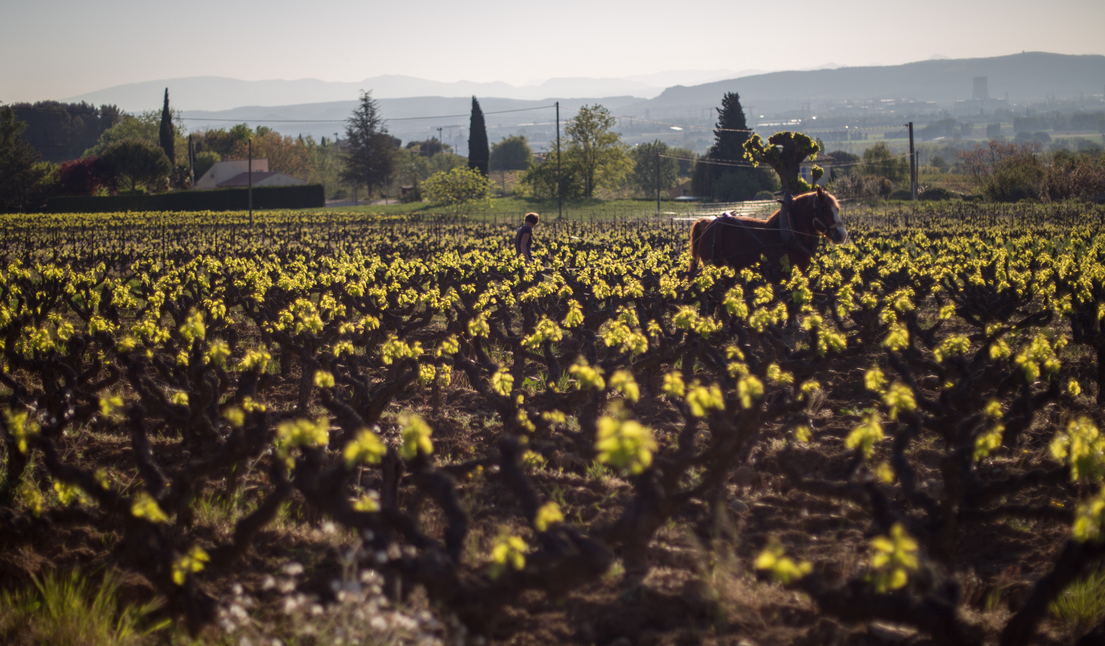 The vineyards are primarily exposed South and Southwest, except for the Syrah vines that benefit from a Northern exposure. The climate there is fresher and is suitable for Syrah which resists less to the hot weather. These vines are planted on what were once terraces of the Rhône River, and they offer a remarkable view of the whole valley: The Trois Becs, the Lance, Mount Ventoux, the Dentelles de Montmirail and the Alpilles.
Containers
The vinification is respectful of biodynamic farming and limited-intervention principles. All the varieties are assembled in tank and 100% de-stemmed. Depending on the wine, the maceration can last 15 days (Bout d'Z*n, Khayyam) or 5 days with Vin de Pétanque. The time of aging again differs on the cuvee and can be made in several containers. Indeed, Hélène owes concrete tanks, stainless steel tanks, vats, sandstone and porcelain jars…around fifty containers, a lot of possibilities to create a lot of good wines!
She started by having the classic concrete and stainless steel tanks and still use it for her easy drinking Vin de Pétanque and rosé, considered more like "glou-glou" wines, to drink in their youth. 50% of the wines are produced in wood vats that match with the will of Hélène of creating wines with more character, full-bodied. Most of them are Stockinger because she says "It's too good!". These are a strong proof of quality. Compared to the barrels, their contribution of woody aromas remains limited after many years of use, they provide a slow oxygenation which gives depth and complexity to the wines. Detaining wood vats is an investment that will for sure be profitable ! Hélène projects to complete her wine cellar with wood vats from Germany to bring some rigor to her wines which are warm and dynamic.
Hélène is a woman with strong convictions and always looking for new techniques to reduce her impact on the environment. The sandstone jar is one of the solutions she found to produce wine in a container which pollutes less than the others, while it still give more stability and neutrality to the wines. Since 2018, she has been experimented the sandstone and porcelain jars and she's really satisfied by the results. The sandstone one has a more important porosity and open more the wines than for the porcelain one. Some wines are made with a percentage of the wine from the jars and then added to a final blend. Her wine Calade is a good example of this assemblage: 25% is from a Stockinger vat, 25% from a sandstone jar, 25% from the porcelain jar and 25% from concrete tanks. An experimenting work leaded by Hélène and her family following their will and feelings. In the future, she wants to count more jar in her wine cellar.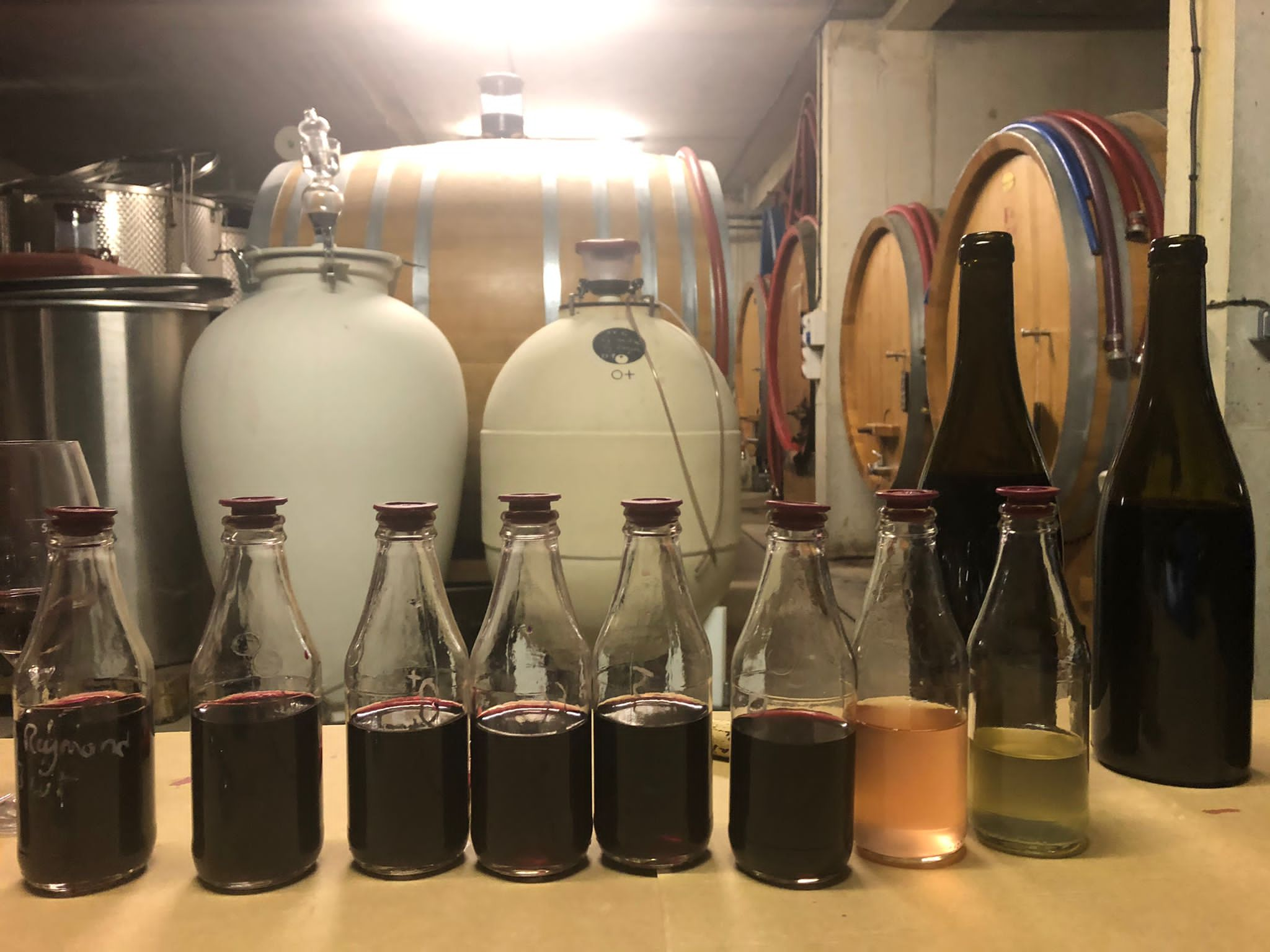 Since 1998 we are proud to work with the Thibon Family which runs the domain with determination and love by listening to all elements of Nature. Hélène describes her wines as honest and frank. She adds "We are not cheaters, we are witnesses of vintages and we try to transmit the story of the vintage through our wines".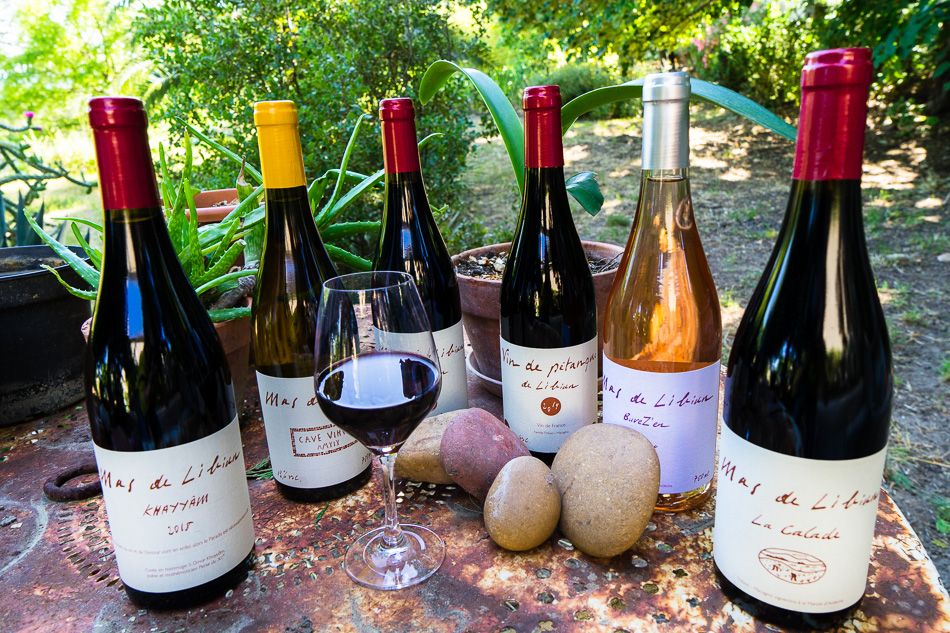 Added Recently
October news..
September news..
June news..
Meet Bruno
When I worked in the family Domaine in Meursaut in the 80s, I had the good opportunity to meet Alain Chapel, an incredible chef who in turn, inspired a generation of chefs. Twice a year, Alain would invite winemakers for what one could say..