La Petite Montagne de Reims (the Small Mountain of Reims) is deceptive in name, as it makes for harder bike riding than the "big" one. It is relentlessly hilly, devoid of even the smallest of flat areas. This little area to the west of the road between Reims and Epernay not only has steep slopes, it also has quite chalky soils and is home to some of the best Premier Cru vineyards in Champagne (Savart, Brochet, Egly Ouriet). It is here, in Villers-Aux-Noeuds, that Olivier Langlais farms his 6 hectares of organic vineyards.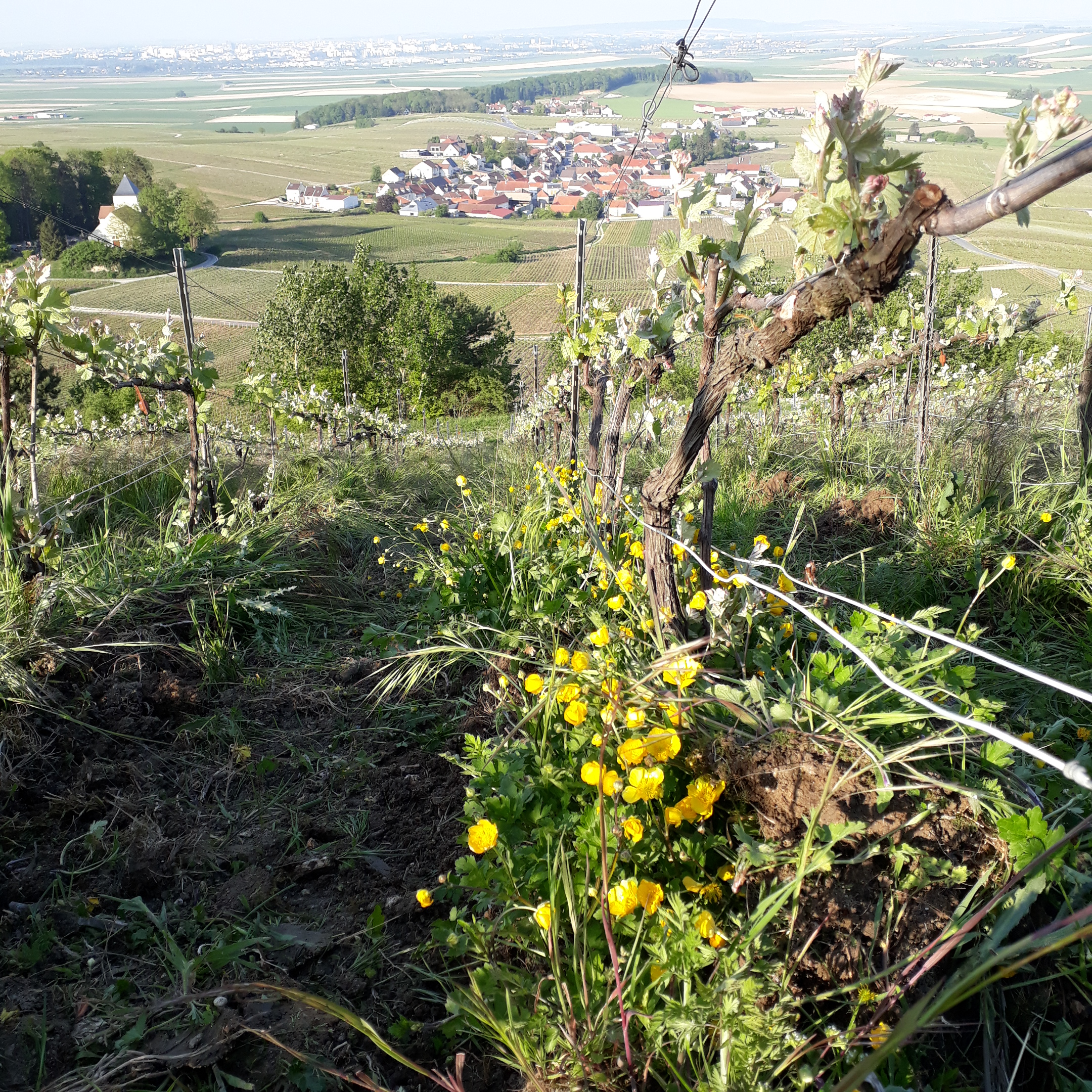 Having worked in the vineyards since 2002, Olivier bought and unified lands belonging to two sides of his family in 2006. The name Solemme is a combination of "sol" for "soleil" or sun, and "emme" for "femme" or woman. His goal is to make feminine, delicate Champagnes that are bright like the sun.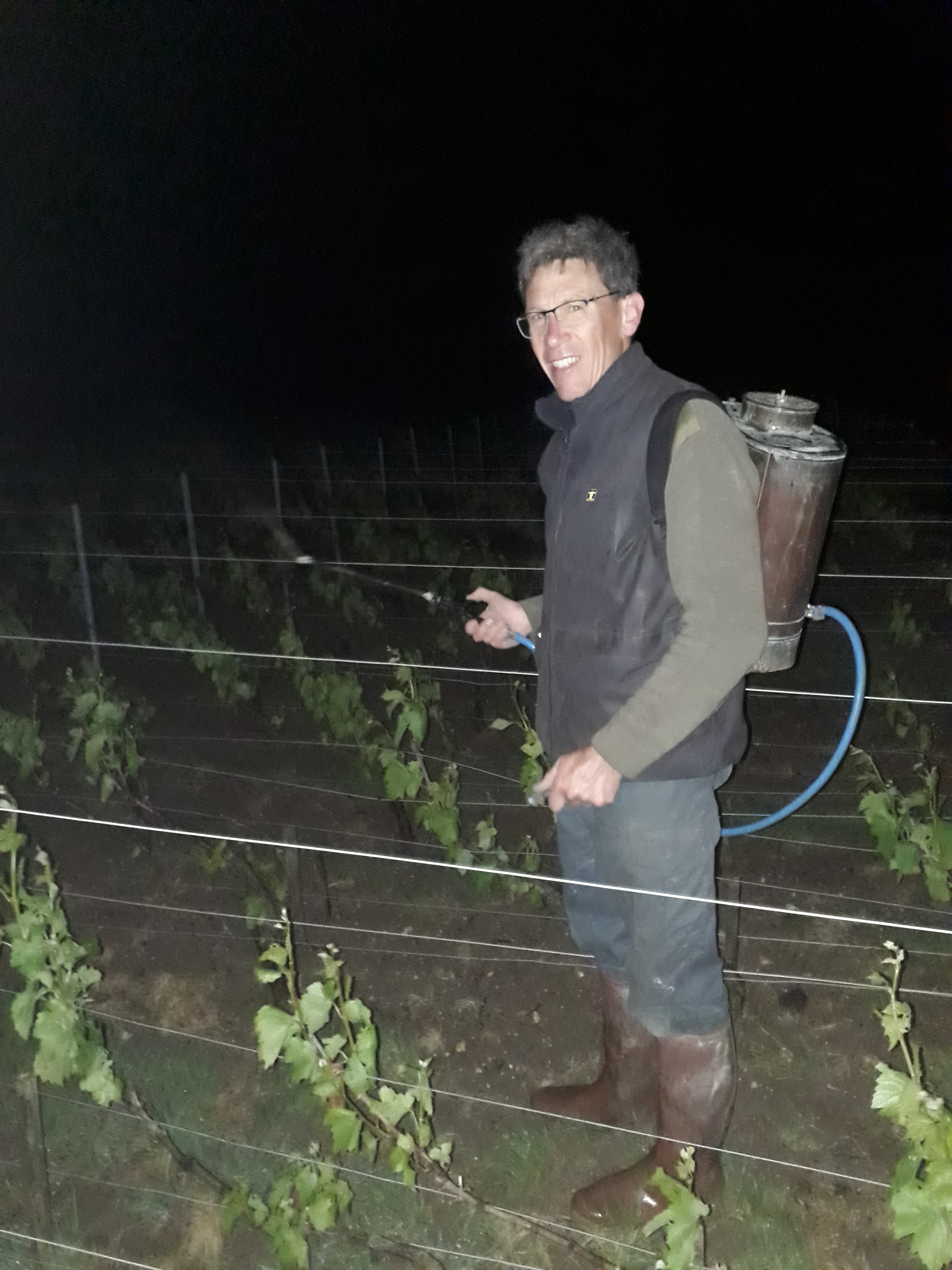 Olivier has incredible dedication to biodynamics, and even disgorges his wine according to the moon cycle. He started this conversion to biodynamic practices with the Chardonnay plot in 2009 and finished transition with his oldest vines of Pinot Noir in 2015. The vineyard is composed of 50% Pinot Meunier, 25% Chardonnay and 25% Pinot Noir. The 6 hectares of land are divided between 6 towns, 5 of them being Premier Cru. Most of the plots, as most of the Petit Montagne de Reims vines, are southeast/east oriented. The oldest vines were planted in the 1960's and the most recent in 2000. As Olivier likes to say, "Everything is happening in the exchange between the soil and the grape", that's why we think it is important to describe the difference of terroir between all parcels.
● The first terroir is the 1er cru Villers aux Noeuds, with a classic chalky soil bringing a lot of minerality to the Chardonnay and Pinot Meunier growing there.
● The second terroir is clay-limestone that we will find in two of his 1er cru: Chamery and Vrigny. With a bit more clay in the second village (Vrigny), Olivier believes that Pinot Meunier gets better results in clay than Chardonnay does; as clay is going to give more "gras", roundness to the grapes. That is why we will find his Pinot Meunier in Vrigny and Chardonnay in Chamery.
● Last but not least, often not mentioned, the less predominant sandy soil in Champagne but predominant here in Villedomange and Eceuil (where the famous Mont des Chretiens from Savart is situated) creates amazing Pinot Noir. This sandy soil gives Pinot Noir concentrated elegant fruit aromas.
As mentioned earlier, Olivier believes, more strongly than most, that wine is made in the vineyard and that the grape gives to the wines what the soil gives to them! That is why since 2013, he became dedicated to do the most he could to revitalize his soil. Over a 3 to 4 day span in Fall and Spring, he spreads composted tea and Luzerne over the vineyards to allow bacteria and mushrooms to thrive.
Once in the cellar, Olivier has a hands-off approach: of course, he doesn't chaptalize, he will only use natural yeast from his vineyard and his friend's vineyard (Fleury). In his chaie, you won't find any barrels, he refuses to fine or filter, there is no addition of SO2 and all the cuvees will spend between 36 to 48 months on the lees to reflect only the terroir. On top of that, in 90% of the cases he won't do any malolactic fermentation to let the minerality shine.
Today we are going to highlight three of our favorite cuvees: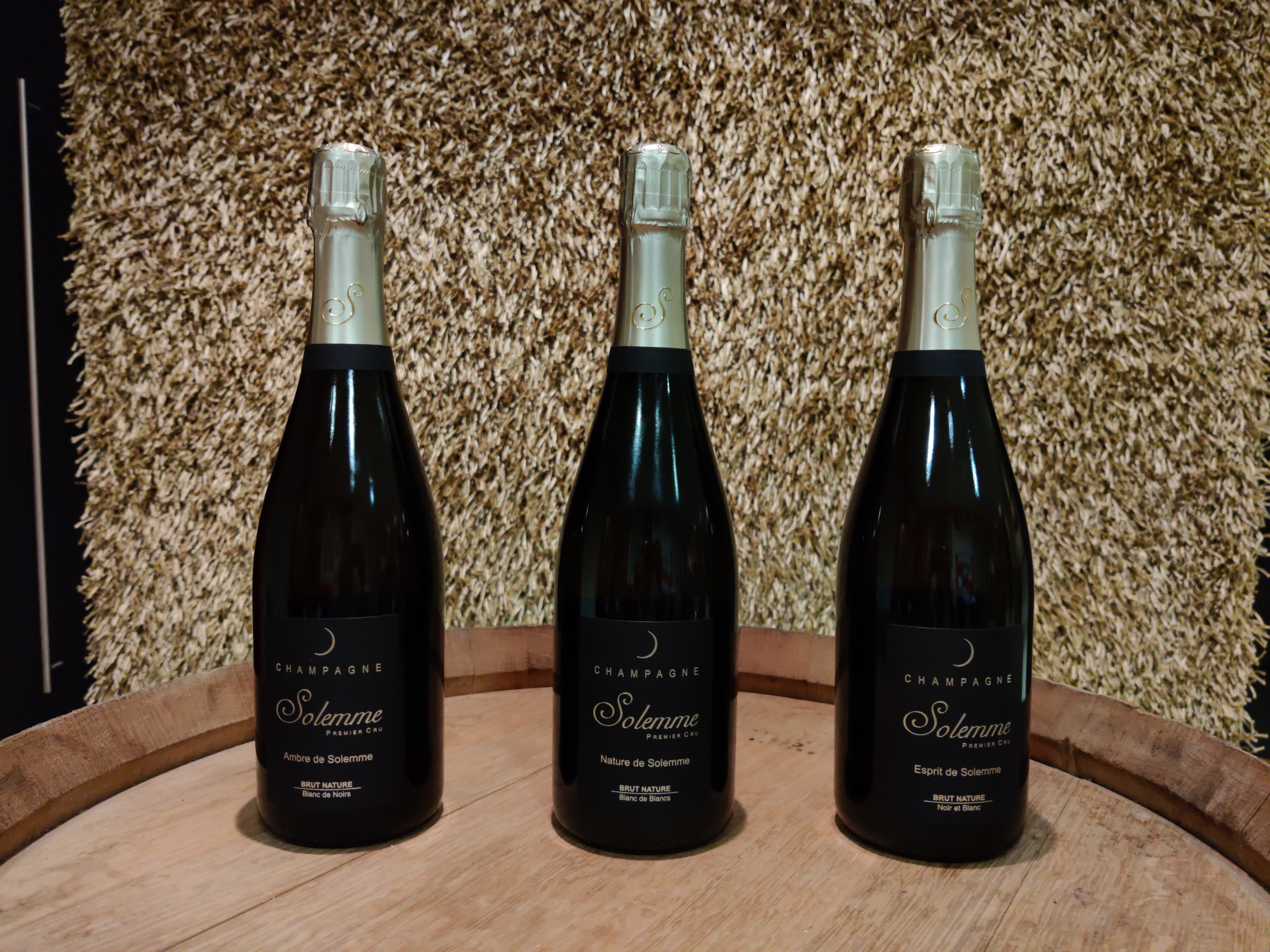 ● Terre de Solemme is a composition of all his 1er cru vines which showcases his winemaking and life philosophy. Olivier's generosity is strongly present in this wine, it is really "gourmand", showing a lot of fruit with a strong vinous taste (probably coming from the Pinot Noir) to counterbalance.
▪ 50% Pinot noir 25% pinot Meunier 25% Chardonnay
▪ Malolactic fermentation only on Pinot Meunier from 2016 ▪ 75% from 2015 25% from the 3 following years ▪ Disgorged « Lune montante » ▪ 6g
● Esprit 2018 is here to show the shining minerality from la Petite Montagne thanks to the 1er cru commune of Villers aux Nœuds and Chamery. You can see the determination of Olivier to represent his terroir in this bottle, featuring a lot of minerality, mixed with citrus and apple aromas.
▪ 50% Pinot Meunier 50% Chardonnay ▪ 0g ▪ No malolactic fermentation ▪ Disgorged « Lune montante »
● Ambre de Solemme 2016 is here to demonstrate the potential of Pinot Meunier, picked from a single plot of 50 year old vines from Villers-Aux-Noeuds. By far the best representation of Pinot Meunier I have ever tasted, this wine is not here to represent Olivier, but to show the world that Pinot Meunier should be revered as much as Chardonnay and Pinot Noir in Champagne.
▪ 100% Pinot Meunier ▪ 0g ▪ No malolactic fermentation ▪ Disgorged « Lune montante »
Added Recently
October news..
September news..
June news..
Meet Bruno
When I worked in the family Domaine in Meursaut in the 80s, I had the good opportunity to meet Alain Chapel, an incredible chef who in turn, inspired a generation of chefs. Twice a year, Alain would invite winemakers for what one could say..