Let us introduce you to Caroline Charrier from Domaine Font de Courtedune, one of our producers from the Rhône Valley. We have worked with Caroline since 2016 and recently took another trip to her family Domaine.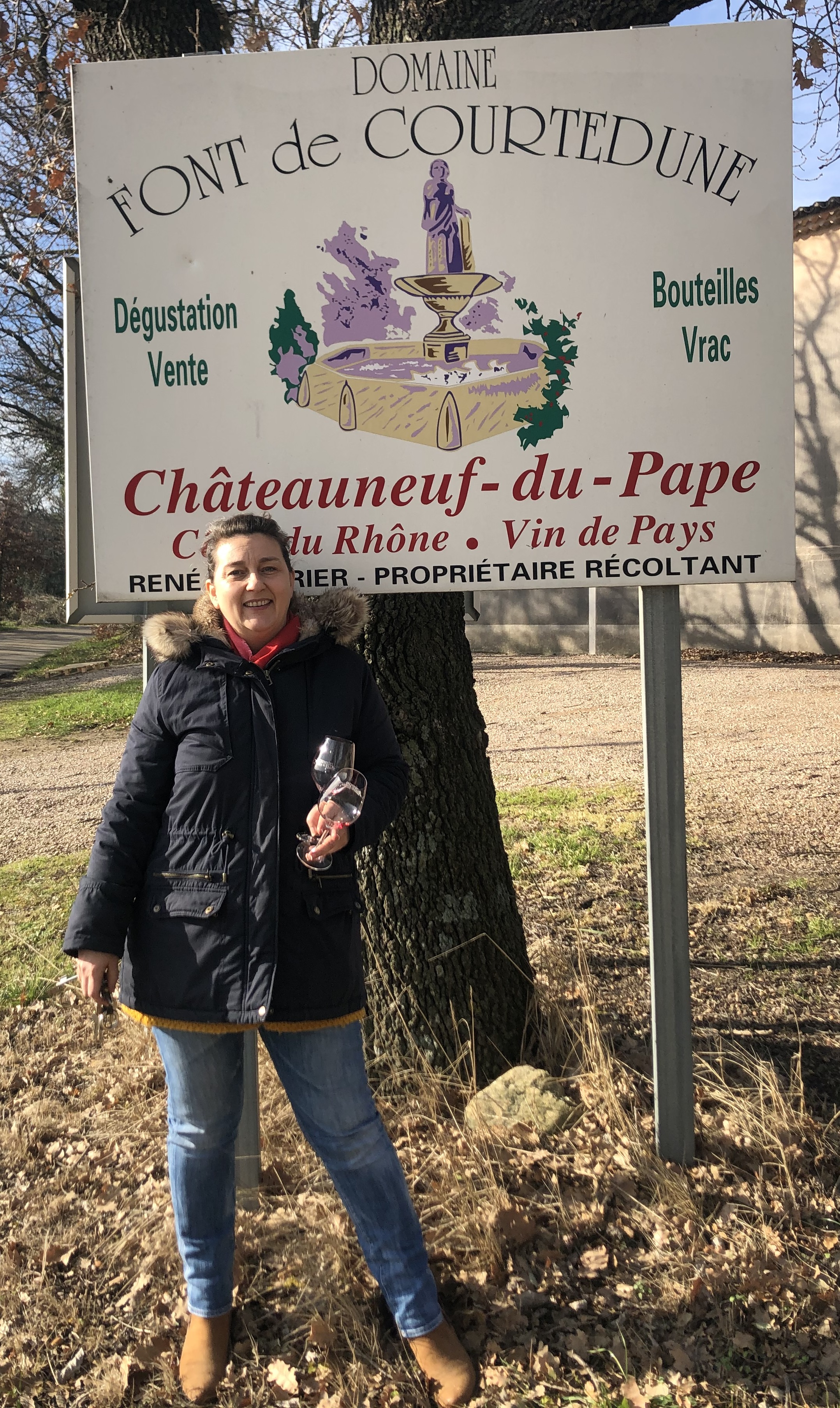 History
Situated in Courthezon, a small village in the Southern Rhône Valley part of the Châteauneuf-du-Pape appellation, Domaine Font de Courtedune is about tradition, family and passion. These words reflect the values Caroline shares through her work and her wines. She will proudly tell you that she represents the third generation of winegrowers and if you ask her why she decided to pursue the family heritage in 2010, she will easily respond to you "Because I've fallen in love with it when I was little"! A natural move for this woman who handles everything from the vineyards, to the cellar, and the bottling.
She runs the cellar like a queen! A space that is as efficient and natural as her wines. Her particularity is that she does not own a destemmer and when we ask her why, she responded naturally "because there was none when I started!". Then you know right away, there is no more question to ask or reason to doubt her choice. Plus, she adds that having the full grapes in the tank during vinification brings special aromas, freshness and finesse to the wines she makes. For the winemaking, Caroline uses square concrete tanks, which were in the cellar before she arrived. She inherited it from her father who bought it in 1997 surely due to its practical aspect, indeed "it fills well in the wine cellar".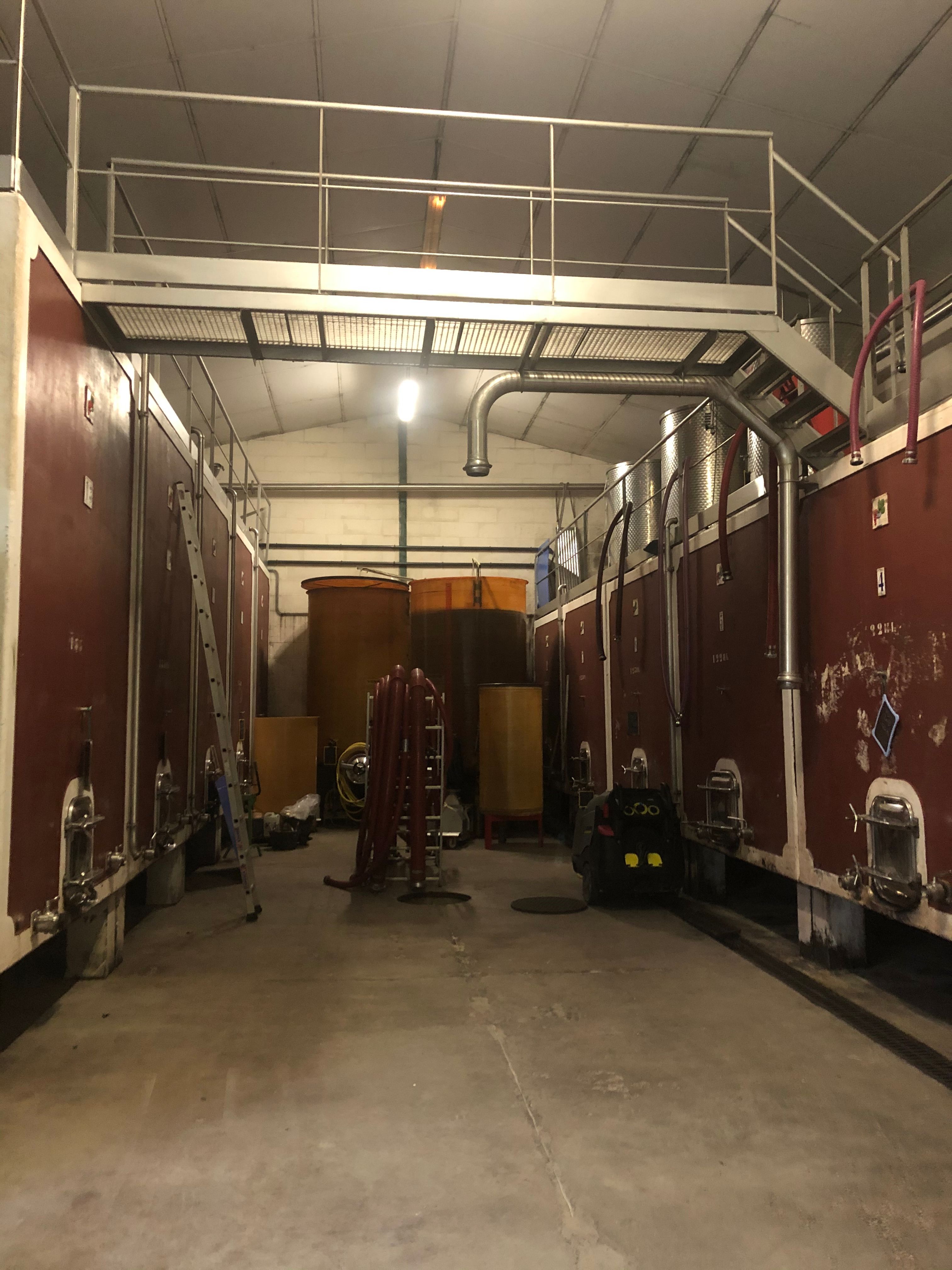 Work philosophy
Vinifications are made with whole bunches, without doing any délestage (rack and return) in order to preserve the must. She prefers to do long maturations to let all the characteristics of the wine develop themselves fully before bottling and it's a success! Now a bit more to know about the vines. Her location provides her vineyard of 70 acres, the diversity of the Rhône Valley appellations with the prestigious Châteauneuf-du-Pape (12 acres), the familiar Côtes-du-Rhône (25 acres), Côtes-du-Rhône Village (7.4 acres) and the less known IGP Vaucluse (25 acres).
Appellations and Terroirs
Each appellation counts different plots. Châteauneuf-du-Pape spreads over 7 parcels located at La Guigasse, La Crau-Est sur Courthézon, Saint Georges Sud, Fond de Michele, Le Pointu and finally Cristia. The last one could create a special echo to you due to its closeness to the mythical Château Rayas and its vineyard. Indeed, Font de Courtedune's plot is exactly next to the ones of the Château Rayas, it is on the same vein, they both share the same characteristics making this terroir so magical, the sandy soil, the northern exposure and the forest surrounding the vines creating a cooler environment. Next time, you visit, or you consider adding a Châteauneuf-du-Pape to your list, Caroline's wine is definitely a must-try! If you know well Rayas, you will know that her proximity with that Domaine means that her vineyards are located predominantly on sandy soils. Precisely, Font de Courtedune is composed at 80% of sand. This terroir will offer finesse and elegance to the wines. That said, some of her plots will sporadically be covered by some pebbles the well-known "galets-roulés" characteristic from the Rhône Valley, but their quantity is so low that it doesn't have a big influence on her wines. Her average yield is around 35 hectoliters and her blend mostly composed of Grenache. She actually declares it legally to be 100% Grenache. Although it is exactly 99% of Grenache and the rest is hard to defined since her vines are co-planted. That 1% remaining is approximately composed of Cinsault, Mourvèdre, Terret and Counoise.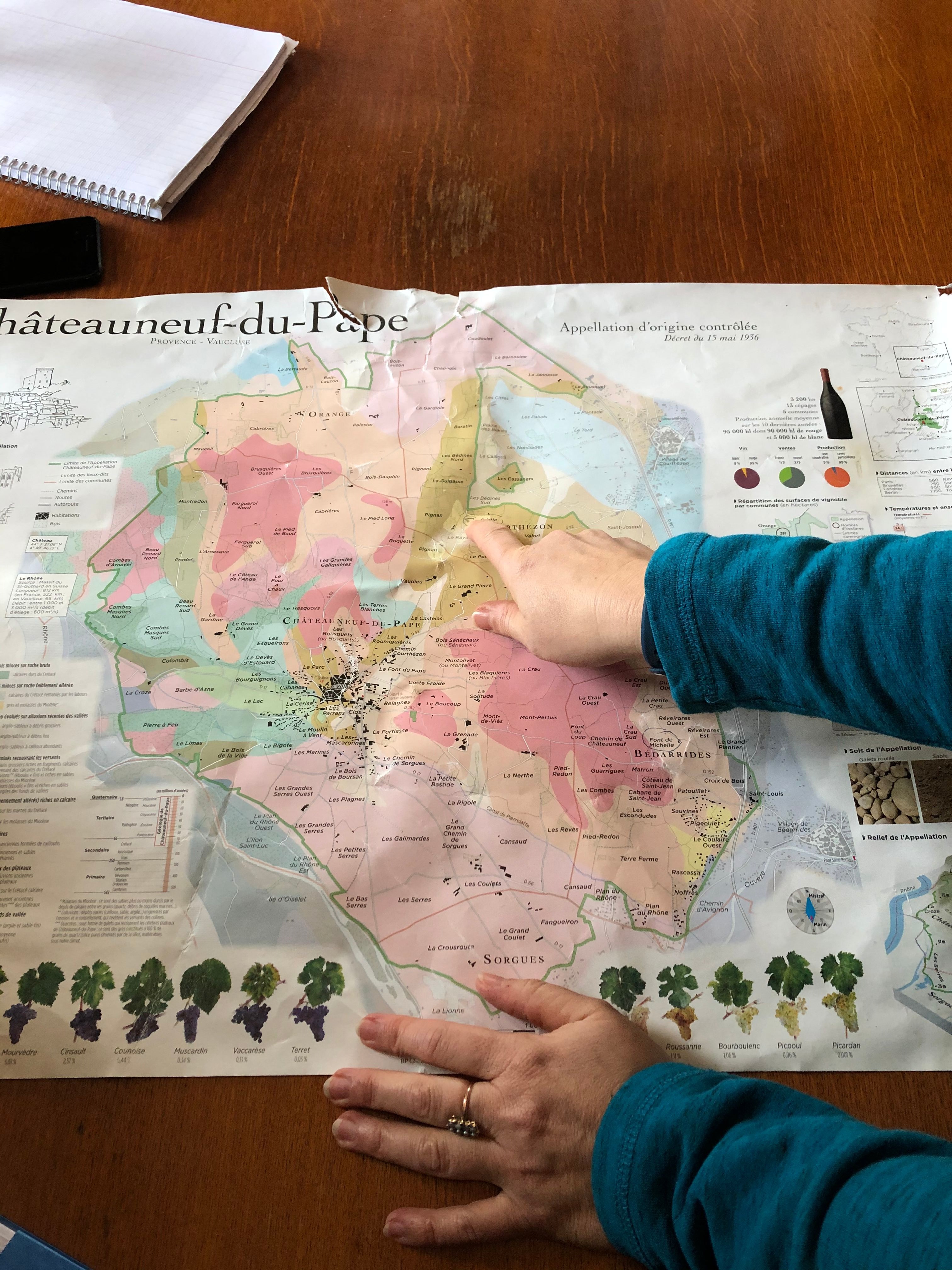 Her 2018 vintage: elegant and smooth with floral aromas of roses and violets, delicate tannins, the classical fruits of red cherry and raspberry are starting to be present. You can also distinguish Provencal herbs and an important freshness due to a cooler vintage that will give nuances to the wine. This vintage is perfect for the palates that prefers elegant over big Chateauneuf du Pape, it will be enjoyable younger than his 3 predecessors.
Caroline also produces wines from the Côtes-du-Rhône-Villages appellation. Her plots are located in the hamlets of Saint-Laurent and Cassan-Est. Here again, the sand is present in majority, but you will also find some pebbles known as "petits gris" which means "little grey", in reference to the little grey pebbles you can find on Mediterranean beaches. These will influence the wines by being more concentrated and tannic. In that wine too, Grenache stays dominant: 60% of the blend, then she generally adds about 30% of Cinsault and 10% of Syrah which can bring aromas of raspberry, cherry, blackcurrant or even liquorice like her vintage 2018. Here, she averages 43 hectoliters per hectare.
Côtes-du-Rhône represents 25 acres of her vineyard with an average production of 45 hectoliters per hecatre. Saint-Martin, Saint-Joseph, Fontaine de Jaubert and Saint Dominique are the hamlets where the plots are planted. Here, the sandy soils are predominant too. As for the blend, Grenache, Cinsault, and Syrah are completed by Mourvèdre.
Finally, IGP Vaucluse is the last addition to Caroline' wines with a 25 acres production. Benefiting from dry and warm summers, and the famous Mistral, her grapes reach perfect ripeness. Caroline would tell you that with her IGP she aims to offer wines that are easy to drink, enjoyable on every occasion, that glou-glou style. The main plot here is called Sarassanne-Est and the terroir is a little bit different than the others with an alluvial soil in addition to the sandy soil.
Caroline would describe her wines as clean, round, elegant and she is proud to say "I do what I like" women empowering! It's clear, she knows what she wants and put all her love, passion and technical knowledge to make wines in her image. Every year she is nourishing this little cult following of her, and you can see it in the press too as she has been rewarded several times by Robert Parker, especially for her Châteauneuf-du-Pape 2018 with 90 points. So, take advantage of it, share it, and enjoy it while you can!
Added Recently
October news..
September news..
June news..
Meet Bruno
When I worked in the family Domaine in Meursaut in the 80s, I had the good opportunity to meet Alain Chapel, an incredible chef who in turn, inspired a generation of chefs. Twice a year, Alain would invite winemakers for what one could say..