The Rhône Valley Region, 2nd largest vineyard in France, has many richness and hidden wines to discover. Names like Châteauneuf-du-Pape, Saint-Joseph or Côte-Rôtie are known all over the world, and many winemakers are famous among the wine world.
These last few years, the consumption has grown more towards white wines, and although the Rhône Valley is known for its absolutely gorgeous reds, the region with 1000 different terroirs also produced great white wines, as stated in the article of Forbes in November 2022 with "the unknown treasures" of the area.
Indeed, they offer a good alternative for the Chardonnay lovers. Made from a blend of Marsanne and Roussanne with sometimes Grenache Blanc and/or Viognier in the blend, these wines are what is closest to the lemon, apricot, and brioche flavors, appreciated by connoisseurs.
As demonstrated by Château-Grillet, a monopole appellation that is producing only white wine from Viognier, and is entirely owned by the Artemis Group, also owner of Chateau Latour in Bordeaux. The fact that the owner of such a Château, which is amongst the best wines in the world, has also invested in the region, shows the attractivity and the potential of it. Château-Grillet, surrounded by the Condrieu appellation, is located on a poor soil but free-draining and robust, perfect for producing great wines. The friable subsoils allow vines to root deeply in their search for water and minerals, minerality that is recognizable in the wine.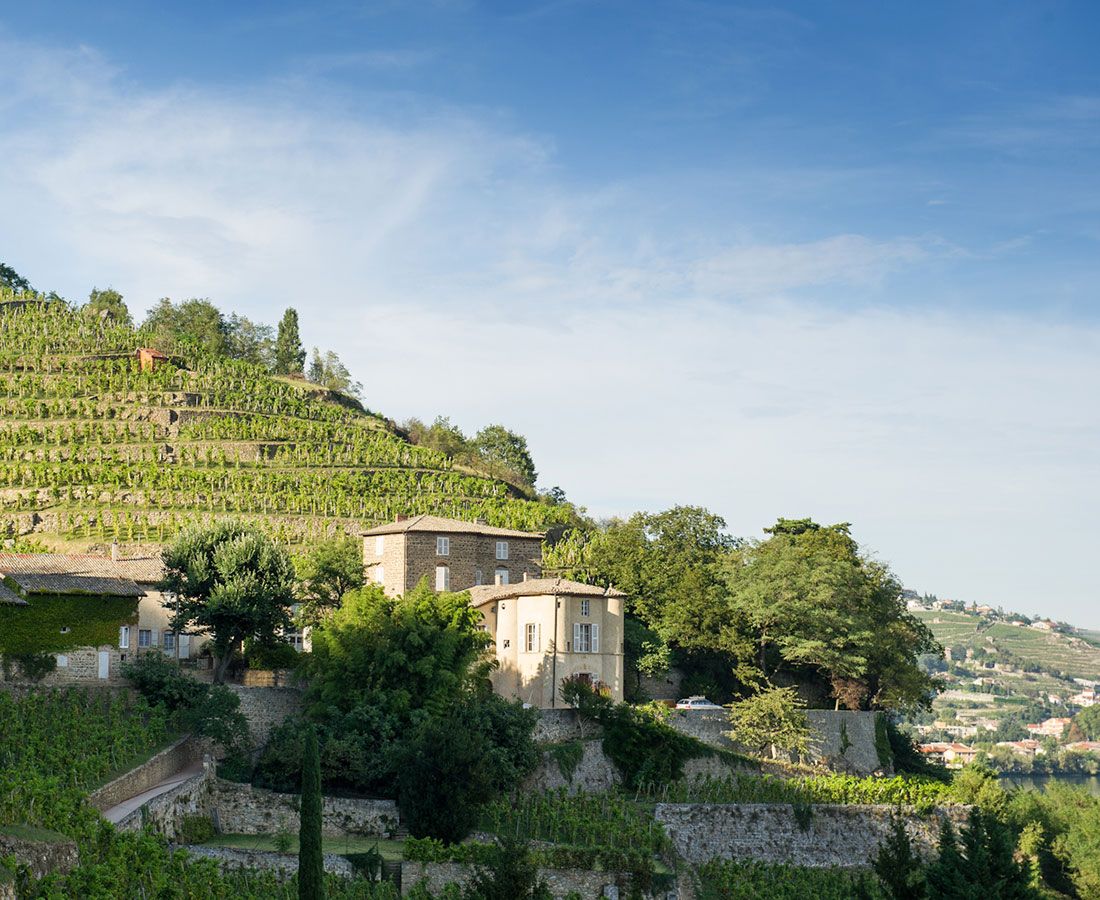 To complete this respected appellation, the Rhone Valley has 31 others appellations, North and South combined, in which 24 of these appellations also produce white!
There is 5 main type of soils: clay, stony, limestone, granitic and sandy, all over the region and with many declinations, due to the different geological eras. It is not possible to state only one type of soils, they are often combined. The region also shows a wide variety of climate:
In the Northern part, near Côte-Rôtie, the vineyards are facing the South, and are not greatly affected by northerly winds. Continental, winters are mild, summers are hot, and rainfall is relatively regular, although the rain tends to be more discreet these past years with the global climate change. You can have the Mediterranean influence by the wind coming from the South.
As you driving further down, closer to Cornas and Saint-Peray, the slopes and the deep valleys create a cool micro-climate, with some much warmer pockets.
In the Southern part, the climate is Mediterranean: dry, with plenty of sunshine and this time, it is influenced by the Mistral wind, which helps drying the vines and keeping the health of the grapes. The combination of these factors creates a region showing a wide variety of possibilities in terms of winemaking, for the whites as well.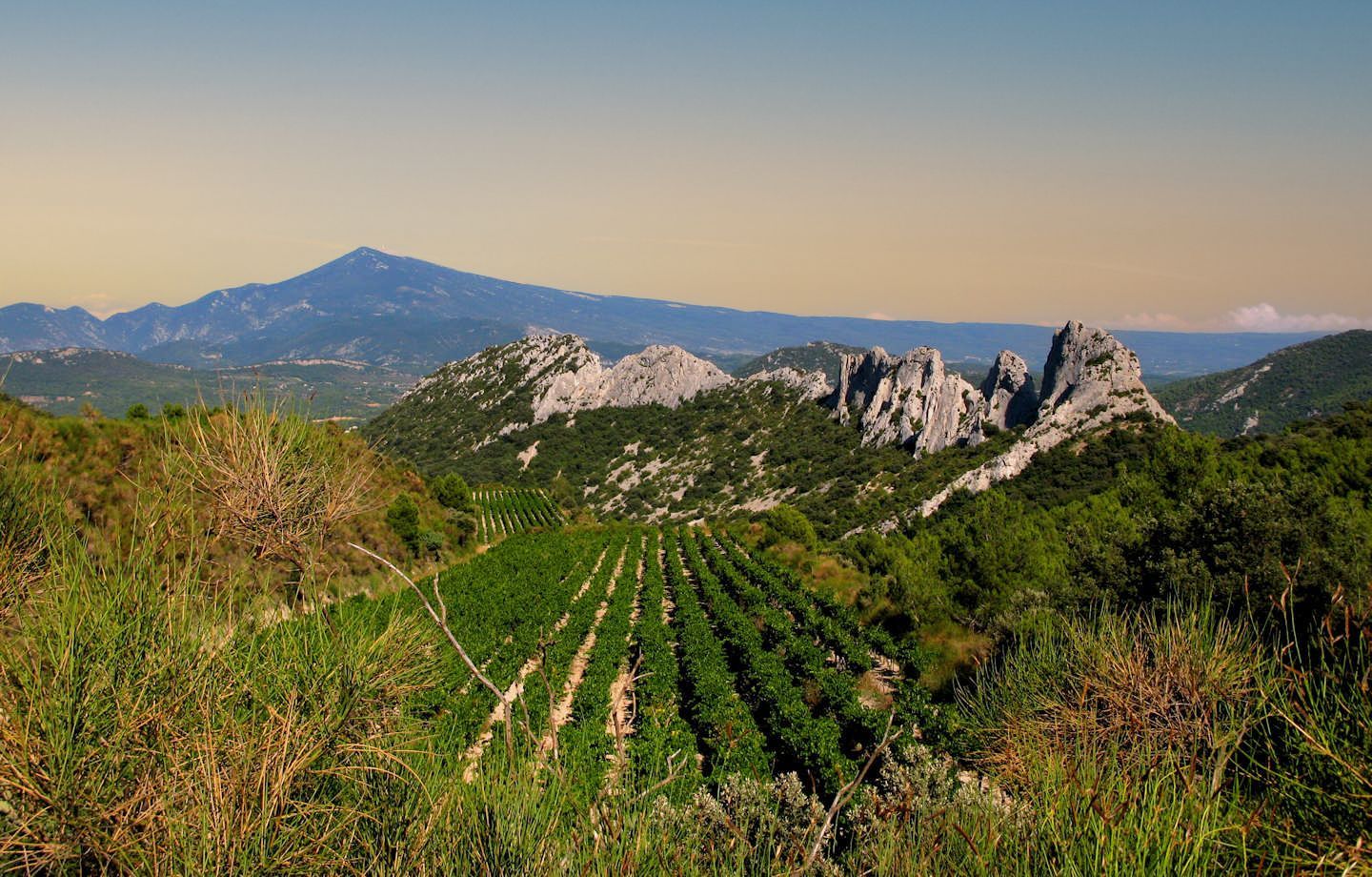 It is the reason why so many appellations are also existing in white, proven by the recent opening (decided unanimously!) of the production of Gigondas white, starting with the harvest 2023, after 11 years of process: many winemakers are convinced that there is a great potential for whites on these limestone terroirs located between 150 and 400 m altitude and dominated by the Dentelles de Montmirail.
Saint-Joseph, Crozes-Hermitage, Côtes-du-Rhône, Vacqueyras, Châteauneuf-du-Pape, Ventoux, and others, have all made this decision before.
We would like to go back to the terroir of some of the most known appellations, with some of our domaines that are producing them.
CONDRIEU
Condrieu, South of Côte-Rôtie, was created in 1940 and is made of 100% Viognier. Very low yield (23 hL/ha), it has a particular geology: deepest part of the rocky soil is granite, but the top of soils has friable textures, with fissures rich in clay, providing the minerals and the moisture needed by the vines. This type of texture ensure that the soil never compacts, resulting in a composition rich in organic matter.
Domaine Julien Barge, located in Ampuis and owner of 6 hectares, produces a low sulphites Condrieu: notes of apricots and honey, with hints of toasty oak that provides a full-body wine, yet smooth and silky. He is also producing a white Saint-Joseph: 100% Marsanne which is a confidential cuvée, with only 1,000 bottles produced.

Find out more about him and his range here
SAINT-JOSEPH
Speaking of Saint-Joseph, created in 1956, this larger appellation sits on terraces and steep slopes, crucial factor for sun exposure and drainage. Main component is granite, but the Southern part of the appellation is composed of tender gneiss and complex, acidic granite.
That is where Domaine Gerard Courbis has his vines: located in Mauves, at the border of Cornas, the two brothers, sons of late Gerard Courbis, are producing a white Saint-Joseph, with subtle smoky and peach notes in the nose, while on the palate there is both weight and crisp acidity. As they want to push the complexity of it, they decided to stop the release of their 100% Marsanne cuvée and 100% Roussanne Cuvée, to offer a balance blend of the two in a unique bottling.

Find out more about the estate and the range here
SAINT-PERAY
Another neighbor of Cornas is Saint-Peray: producing exclusively white from Marsanne and Roussanne, this appellation created in 1936 was once seeked by Russian Tsars and the Queen Victoria. The terroir shows a remarkably rich geodiversity, with four geological eras. You will find granite from the volcanic magma of the Massif Central, the limestone from the Jurassic, the marine deposits from the Tertiary and the layers of Loess from the glaciations.
Domaine des Hauts-Chassis, family estate organic since 2017, is producing Les Calcaires, a limited release of Saint-Peray blend of mostly Marsanne with a touch of Roussanne: floral and spicy notes on the nose, with a minerality in the palate, lifted by the freshness of the blend.

Find out more about the estate and the range here
HERMITAGE AND CROZES-HERMITAGE
The two others emblematic appellations of the Northern Rhone, Crozes-Hermitage and Hermitage are located on the other side of the Rhone River.
Hermitage, created in 1937, is producing 35% of its wines in white: iconic terroir made of granitic sand and covered of mica-schists, gneiss, and alluvial pebbles, it also shows a variety of soils that can be subdivided in three sections. The west is a hilly granite terroir, considered as the "red" terroir. The central section is made of limestone and flint with pebble stone, and the East side has a clay soil and gentler slopes, oriented East, that is giving excellent white wines.
That is where Domaine Belle, historical family estate located in Larnage, produce its Hermitage white: sublime wine with an incredible ageing potential, showing subtle notes of fresh hazelnuts, turmeric and saffron, with a structure revealing its vinification. Domaine Belle is also producing two superb white Crozes-Hermitage – Les Terres Blanches and Roche Blanche – whose parcels are located on the best terroirs: the clay and limestone (Kaolin), at the top of the appellation. This past couple of years, the style of Domaine Belle has gained in precision and tension to offer exquisite whites.

Find out more about them here
Located on the 45th parallel, Crozes-Hermitage is the largest appellation of the Northern Rhône. Created in 1952: the vineyards are vast, incorporating a wide variety of soils. The most significant area, to the South and East of Tain-l'Hermitage, is composed of rounded pebbles, mixed with red clay forming a relatively flat landscape of plateaux and terraces. The North West is composed of steep hillsides, and around Larnage, there is a stony terrace with loess or kaolinitic black sand. Towards the North, you will find soils that lies on granite soils, covered with loess.
Domaine Vendome, also located in Larnage, is a young winery that started tree growing before starting winemaking in 2010: Les Pinets, blend of Marsanne and Roussanne, their white Crozes-Hermitage, is located on the North part of the appellation: it is a precise and tense wine, overall round and rich, with a stunning length in the mouth.

Find out more about the estate here
Another new estate in our portfolio to produce a Crozes-Hermitage white: Domaine Delhome, located in Larnage as well. The cuvée called Les Loess is a 100% Marsanne which is Julie's favorite. Round, notes of apricots and with a nice length, you can taste the ageing in oak barrel blending perfectly with the flavor profile and without altering the fine texture of it.

Find out more about the estate here
VENTOUX
The appellations of the Southern part of the Rhône are just as fine, with a warmer climate.
Ventoux became an appellation in 1973, and 38% of the wines produced under this name are white. At the base of the limestone massif of the Mont Ventoux, three types of soils can be found : the red soils, coming from the limestone degradation composing the Mont Ventoux, the sandy soils, and the pebbles, at are rolling down the mountain.
Vindemio, owned by Domaine La Fourmone, is producing Ignis, a white Ventoux from Clairette and Grenache blanc and located at 400 m of altitude: it is an expressive and elegant white wine, with floral and fruity notes, structured by a touch of oak. More obscure and on the higher end of the appellation, it is worth tasting as wine lovers will recognize the balance, freshness and potential of it!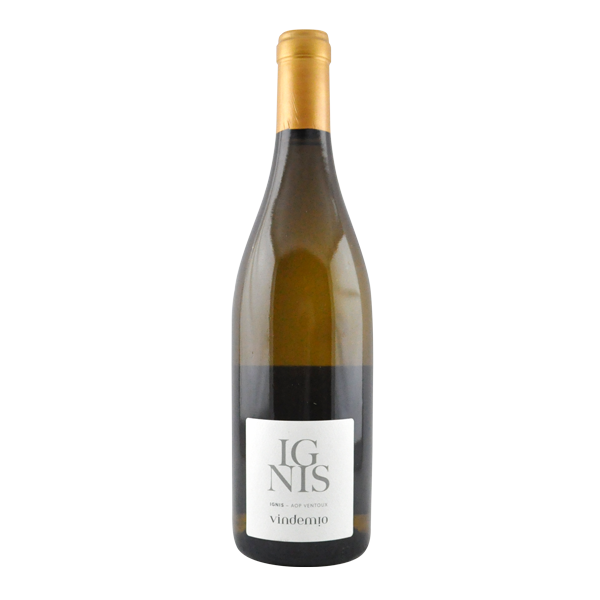 Find out more about Vindemio and the range here
VACQUEYRAS
Domaine La Fourmone produces Vacqueyras and Gigondas: the estate dates back to 1765, and the Combe family is in charge of it since 1910. Their Vacqueyras white, Le Fleurantine, is frequently awarded by Jeb Dunnuck. Blend of Grenache and Clairette, it is a fullbodied wine with notes of vanilla, blossom and tangerine, with a vibrant lemon acidity in the mouth. That appellation, which was created in 1990, is indeed known for the reds, and only a small proportion of the wines are white. The soils are made of sandy clay with banks of pebbles, on the terraces of the garrigue.

Find out more about Domaine la Fourmone and Vacqueyras here
CHATEAUNEUF-DU-PAPE
Right next to Vacqueyras is probably the most famous appellation of the Southern Rhône: Châteauneuf-du-Pape. Created in 1936, the terroir is composed of pebbles stones and a combination of limestone, clay, and marl. Very complex and different based on where one stands in the vineyard, we can say that the **Western part **of Châteauneuf-du-Pape is made of sand and clay soil covered with large stone, the Northern part is a mix of sand, red and gray clay and limestone, the Eastern part is composed of marl and lastly, the Southern part is sand and clay soil with layer of gravels.
Domaine Julien Masquin, still unknow to most people but with a fast-growing popularity and recognition, produces wines since 1998. His unique Châteauneuf-du-Pape white is named L'Intimiste: a blend of mostly Grenache Blanc and an addition of Bourboulenc. It is a crispy and tense white Châteauneuf, with citrus fruits. Julien tries to avoid too much roundness in his white by focusing on keeping blance and freshness.

Find out more about Julien Masquin here
Xavier Vignon, renowned consultant in the Rhône Valley, produces very different Châteauneuf: blend of Grenache, Roussanne and Clairette, his is distinctive for its salinity – a lifelong research and analysis for Xavier – and its freshness, rather complex. The most popular being the famous Anonyme white, produced only in top vintages, limited to a handful of bottles and that will age perfectly over the years.

Find out more about Xavier Vignon here
Domaine Durieu, historical estate of Châteauneuf-du-Pape related to the Avril family, produces a very secret quantity of white Châteauneuf-du-Pape, blend of Grenache Blanc, Roussanne and Picpoul. It is a cuvée with a remarkable balance, combining finesse, delicate notes of white fruits and ending on a beautiful aromatic persistence.

Find out more about Domaine Durieu here
COTES DU RHONE VILLAGES
On a more confidential note, the Côtes-du-Rhône Villages Sablet, created in 1974, is made of sandy soil, with decalcified red clay mixed with pebbles of various sizes and some red sandstone.
Domaine La Roubine, owned by Eric a former firefighter of Paris that came back to the family estate, produces La Terre d'Yvonne, Sablet white made of Marsanne, Clairette and Viognier: vanilla and smoky note, it is a rich and unctuous sip with unabashed oak influence yet anchored by fresh mineral tones and a grip of chalk on the finish. The overall production of the estate is limited and Eric's Sablet (red and white) are generally allocated.

Find out more about Domaine La Roubine here
COTES DU RHONE
Finally, last but not least, the generic appellation Côtes-Du-Rhône, created in 1937, of which only 8% are white wines! It features the following types of soils: rocky clay soils, pebbles, and stony deposits (on hills and slopes) which provide nutrients and a regular water supply; but also, Loess and sandy soils which provide a less uniform water supply.
Rive Droite Rive Gauche white, one of our iconic label, is produced by Bruno Lafon: it is a Grenache, Roussanne and Viognier blend, exposed North and on sandy soils mixed with clay and limestone. It is intently mineral, with citrus fruits and orange blossoms notes, silky on the palate and a chalk finish.

Find out more about the other wines of Bruno Lafon here
Domaine la Cabotte, among the pioneers of biodynamic farming in the Rhône, produces exquisite white Rhône wines. The first in the range, named Colline; blend of Grenache, Clairette and Viognier, it is a complex wine, with notes of summer and white/yellow fruits on the nose, good tension and salinity showing a beautiful minerality in the mouth, with a rich a long finish.

Find out more about Domaine La Cabotte here
Domaine des Escaravailles, founded by the Ferran family in 1953, produces La Ponce: blend of Marsanne, Roussanne, Clairette and Grenache, it has a nose of white flesh fruits and citrus fruits, the mouth is fresh, mineral, and crisp with juicy white peach and pear, pleasant and refreshing. Definitely one of our favorites!

Find out more about Domaine des Escaravailles here
If you're reading this, thanks for joining along and going through that broad article about the white Rhône wines. We hope it gives you more insights about their potential and the desire to go deeper in the exploration of our white Rhône in the portfolio. Enjoy!
Added Recently
October news..
September news..
June news..
Meet Bruno
When I worked in the family Domaine in Meursaut in the 80s, I had the good opportunity to meet Alain Chapel, an incredible chef who in turn, inspired a generation of chefs. Twice a year, Alain would invite winemakers for what one could say..